Pedigree use: £400 for a minimum of 10 straws plus delivery and VAT
Commercial use: £750 for a minimum of 50 straws plus delivery and VAT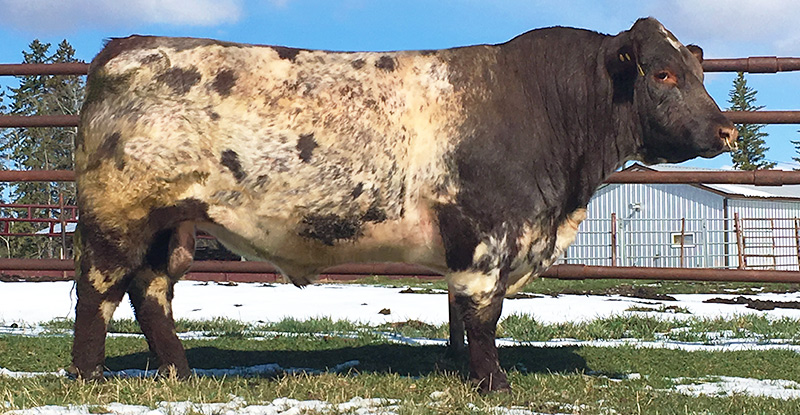 We are now pleased to be able to offer semen from DRS Super Mario 42E. We first heard about Super Mario from Kirk Seaborn of Crooked Post Shorthorns in Alberta towards the end of 2017. He told us he had seen a tremendous CP Stockman calf at one of his customers. I took this comment on board, but then forgot about our conversation as I had yet to see a bad CP Stockman calf! Also I had already imported embryos sired by Crooked Post Stockman and semen from Crooked Post Drover 29D, a CP Stockman son. I did not feel that there would be a market for more CP Stockman genetics in Europe, but I continued to hear positive comments regarding Super Mario during the early part of 2018, and became more and more curious about him.
Our Feature Bull for 2020
Every 100th straw of Super Mario semen sold entitles the purchaser to a 50% discount off their next semen order. This offer applies to semen orders for pedigree use only (maximum credit £500). Also, every order in 2020 for Super Mario's semen entitles the purchaser free entry into a draw for two free embryos. This draw applies to semen orders for pedigree use only, with the draw being made in December 2020.
I was aware by now that Kirk Seaborn had purchased Super Mario, and had used him on a large group of his 15 month old heifers. I was then contacted by the Irish Shorthorn Society, who was also interested in Super Mario and were seeking a partner. A deal was concluded and semen was collected and imported into the UK and Ireland. As a result we have exclusive rights to the mainland UK along with rights to market elsewhere in Europe.
I decided to hold the semen back from the market during 2019 and wait to see the results from Super Mario's first calves at Crooked Post from heifers calving down at 2 years old. The heifers all calved without issue and as can be seen from the photos his first crop of calves (below) show tremendous potential. The Irish Shorthorn Society marketed the semen immediately and the first Super Mario calves in Europe will be on the ground this spring in Ireland. Crooked Post used Super Mario again in 2019 on a much larger group of their herd; that shows their confidence in him as a true herd sire.
Super Mario semen is stored here in the UK at UK sires and will be released in limited numbers annually. It is not our intention when we import semen to bring in vast quantities and flood the market.
A comment on Super Mario in Kirk Seaborn's own words: "Observed from birth and purchased as a weaned calf from DRS Livestock in west central Alberta, to date Crooked Post Shorthorns has employed this impressive sire for the past two years. With developing progeny in Canada, USA and overseas, our immediate confidence in Super Mario has been rewarding. His impressive dimension, substance and growth combined with a level of structural soundness that prescribes Super Mario as a moving forward, improvement sire. A pedigree steeped with individual's rich with maternal and performance expressions that mesh to provide a delivered package of longevity, fertility and pay day performance."
Pedigree of DRS Super Mario 42E
DRS Super Mario 42E General Profile
| | |
| --- | --- |
| Igenity DNA Case File No: | DG18B047072 (THF, PHAF, DSF) |
| Birth Weight (Adjusted): | 39kg |
| Weaning Weight (205 Day Adjusted): | 419kg |
| Yearling Weight (365 Day Adjusted): | 638kg |
| Scrotal Measurement (12 Months): | 36.7cm |
DRS Super Mario 42E EPD Profile
| | |
| --- | --- |
| (CED) Calving Ease Direct: | 9 (top 45% of the breed) |
| (BW)Birthweight: | 0.5 (top 30% of the breed) |
| (WW) Weaning Weight: | 53 (top 55% of the breed) |
| (YW) Yearling Weight: | 80 (top 50%) |
| (MK) Milk: | 24 (top 10%) |
| (TM) Total Maternal: | 51 (top 10%) |
| (CEM) Calving Ease Maternal: | 6 (top 35%) |
| (ST) Stayability: | 11 (top 75%) |
| (CW) Carcass Weight: | -3 (top 20%) |
| (REA) Ribeye Area: | 0.14 (top 25%) |
| (MB) Marbling: | -0.05 (top 65%) |
| (FT) Fat: | -0.08 (top 65%) |
| ($CEZ) Calving Ease Profit: | 27.74 (top 50%) |
| ($BMI) British Maternal Index Profit: | 124.67 (top 40%) |
| ($F) Feedlot Profit: | 53.02 (top 60%) |
Trait Rankings vs Breed Average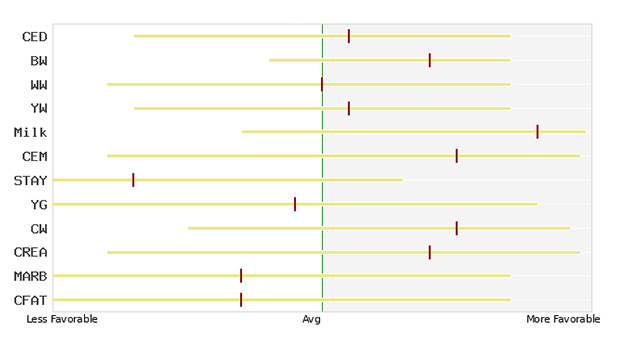 | | |
| --- | --- |
| Green Line: | Represents the breed average (50th percentile) |
| Red Line: | Represents the current % rank as determined by the epd value |
| Yellow Band: | Range of potential % rank based on possible change expected based on current accuracy. As more data is received and incorporated into the NCE, the band will shrink. The red band should position somewhere inside the current band. |
Video of Super Mario (added January 2020)
Super Mario's First Calf Crop (Born 2019)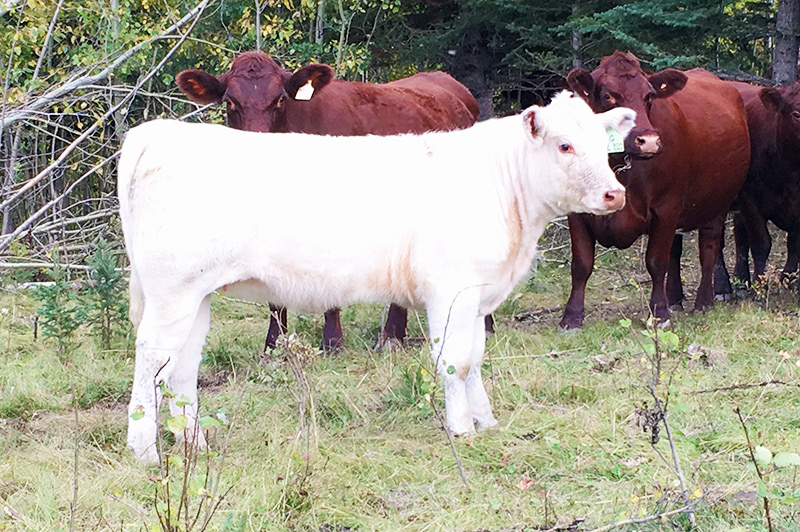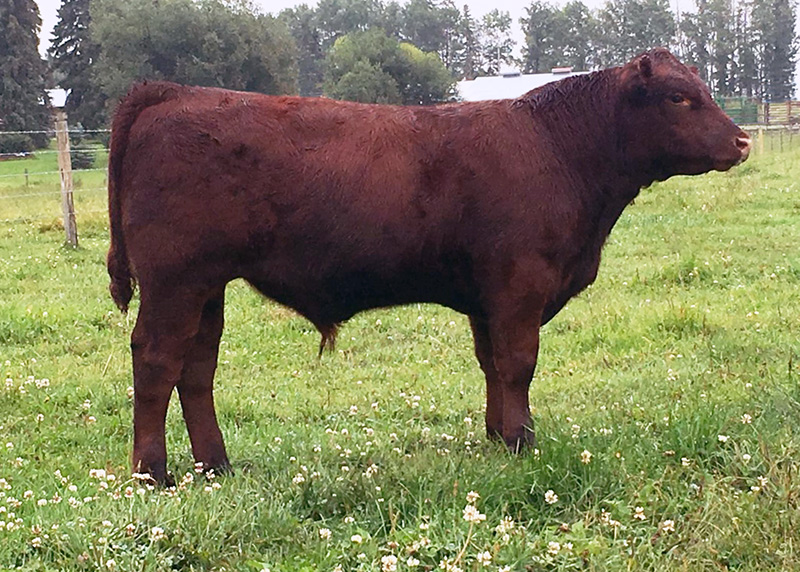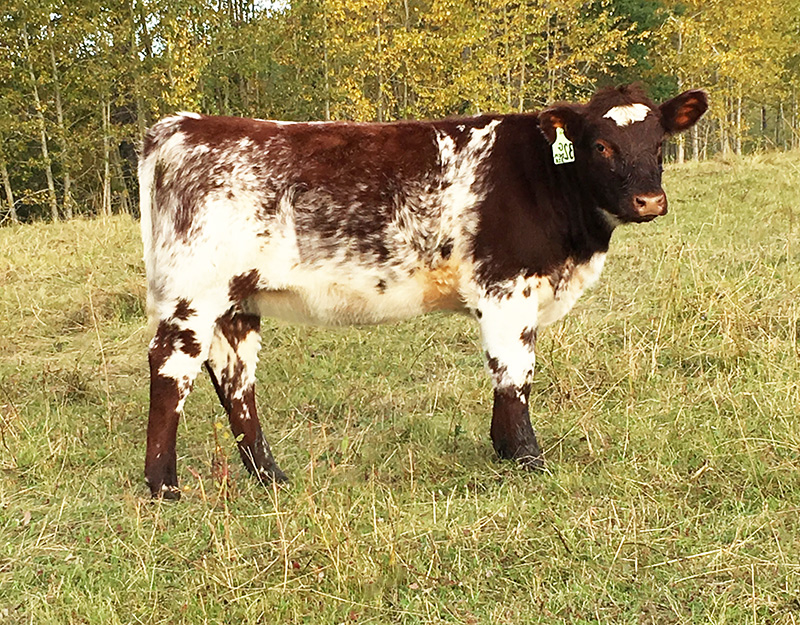 Dam - DRS Picture Perfect 32A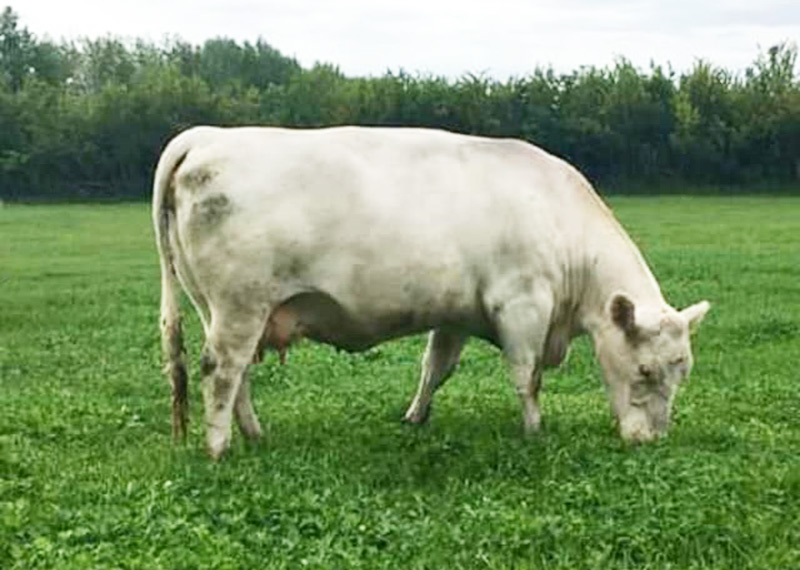 Grand Dam - DRS Picture Perfect 32W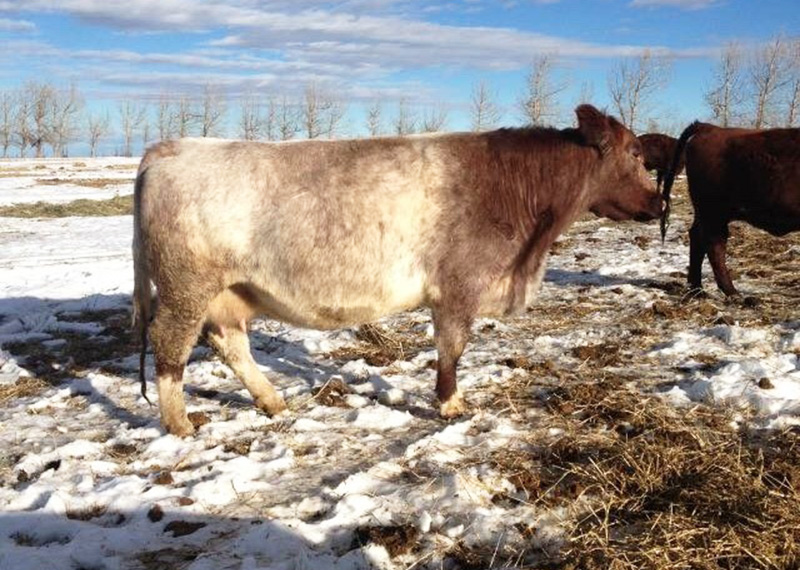 Sire - Crooked Post Stockman 4Z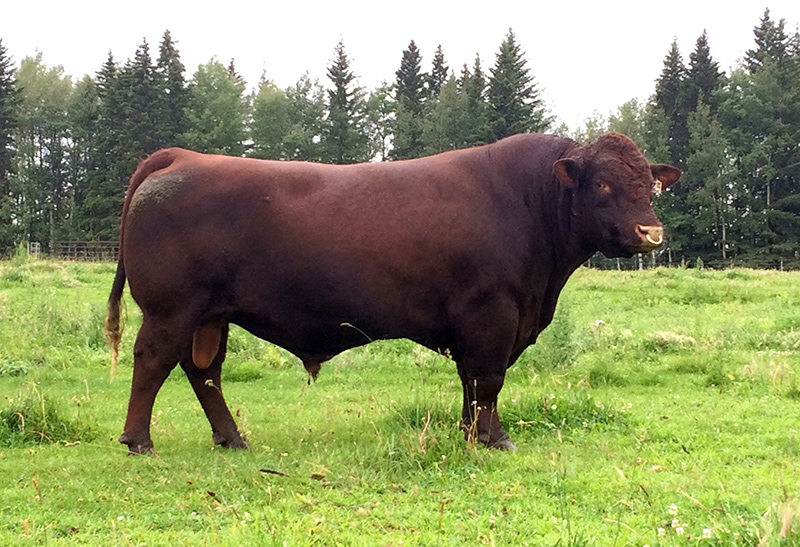 Crooked Post Stockman is a dynamically balanced sire with exceptional prepotency to stamp in maternal calving ease, growth, fleshing ability, docility and overall structural soundness. In addition to recently being ASA nominated into the comprehensive 2018 University of Illinois Sire Test, Crooked Post continue to receive feedback from herds around the world that Stockman is a serious red meat performance bull who will continue to play a large role in many of the herds that utilize his service. After Crooked Post Stockman was analysed and assessed by Ian Walsh of Falkirk Scientific Foundation in New Zealand, Mr. Walsh provided the following summary, "Stockman 4Z appears to be medium framed with excellent depth particularly the shoulder and girth region. His mobility suggests a correct structural configuration with a full but smooth and optimal shoulder formation. Stockman 4Z's muscularity is ideal with ample expression illustrated. A well-balanced sire that deserves consideration for your stud as an improver."
Sire Video (added January 2018)
Sire EPD Profile
(CED) Calving Ease Direct:
14 (top 5% of the breed) *
(BW)Birthweight:
-1.1 (top 15% of the breed)
(WW) Weaning Weight:
66 (top 15% of the breed) *
(YW) Yearling Weight:
79 (top 20%) *
(MK) Milk:
23 (top 10%) *
(TM) Total Maternal:
56 (top 4%) *
(CEM) Calving Ease Maternal:
8 (top 4%) *
(ST) Stayability:
9 (top 30%)
(CW) Carcass Weight:
14 (top 40%)
(REA) Ribeye Area:
0.13 (top 10%)
(MB) Marbling:
-0.01 (top 60%)
(FT) Fat:
-0.02 (top 80%)
($CEZ) Calving Ease Profit:
45.04 (top 10%) *
($BMI) British Maternal Index Profit:
153.61 (top 2%) *
($F) Feedlot Profit:
58.15 (top 15%) *
* 2018 American Shorthorn Association Sire Summary Trait Leader