Welcome to Woodstock Bower Farm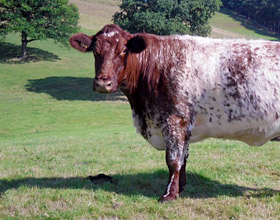 Woodstock Bower Farm is the home of the Wenmar herd prefix of Beef Shorthorn cattle. The first Wenmar Beef Shorthorns came together on the Isle of Man in the early 1990's when the herd was first founded.

The focus at Wenmar Beef Shorthorns has always been on the traditional pedigree, native breeds of beef cattle. The Beef Shorthorn herd shared the farm on the Isle of Man with Hereford and Highland Cattle.

The recent arrival of our cattle at Woodstock Bower Farm is enabling us to focus all of our attention on Beef Shorthorns. Our Herefords were dispersed direct from our farm on the Isle of Man. The Highland Cattle were dispersed from here at Woodstock Bower during the late summer of 2011. Our focus now is solely on pedigree Beef Shorthorns.

The aim at Woodstock Bower Farm is to breed quality bulls and heifers suitable to carry the breed forward onto the next generation. Wenmar Beef Shorthorn cattle are targeted to produce stock capable of producing quality beef in today's marketplace. Breed character, mobility, milkyness and good temperament are our focussed goals.
Our Beef Shorthorns